Check for advance tickets only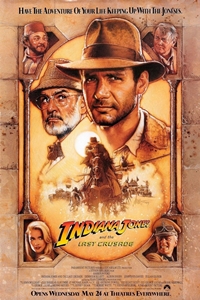 Indiana Jones and the Last Crusade
Opens 5/2/2017
Rated PG-13 N/A
"Cuando el Profesor Henry Jones (Sean Connery, La liga de los hombres extraordinarios) desaparece de repente, el arqueólogo y aventurero Indiana Jones (Harrison Ford, Cowboys and Aliens), deberá enfrentarse a un maléfico multimillonario para seguir los pasos de su padre hasta el momento que fue secuestrado. En compañía de la codiciosa Elsa (Alison Doody, papel de Pam en la temporada 2 de Beaver Falls), irá al rescate de su padre y continuará con la búsqueda del Santo Grial, una preciada reliquia que también quieren los nazis, con los que tendrá que luchar para conseguirlo, ya que éstos planean utilizarlo para dominar el mundo.
Playing at:
Movie Tavern at Brannon Crossing
CAN'T FIND THE SHOW TIME YOU ARE LOOKING FOR?
We post new schedules on Tuesday evenings for Friday through the following Thursday. In some cases, advance tickets for future releases will be posted by date.
Closed Captioning and Descriptive Video devices available by request at theater box office.
Find Showtimes & Buy Tickets
*Click on time to purchase tickets