Welcome
Check for advance tickets only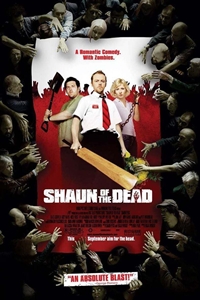 Shaun of the Dead
Opens 9/24/2004
Rated R for zombie violence/gore and language
Shaun is in a rut. He's 29 and coasting through life. An aspiring DJ who long ago tucked away his record collection, Shaun works full time at a local electrical store with a staff of youngsters on their way to better things. His girlfriend Liz is rapidly outgrowing his aimlessness. On a Friday night, Shaun and Liz are down at the local pub with their friends. Shaun and Liz resolve to move forward in their relationship and go out for a romantic dinner the following evening. Their plans are upset, however, by an onslaught of zombies, which threaten to take over the city.
CAN'T FIND THE SHOW TIME YOU ARE LOOKING FOR?
We post new schedules on Tuesday evenings for Friday through the following Thursday.
In some cases, advance tickets for future releases will be posted by date.
Closed Captioning and Descriptive Video devices available by request at theater box office.
Find Showtimes & Buy Tickets
*Click on time to purchase tickets