Check for advance tickets only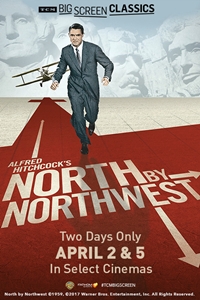 North by Northwest (1959) presented by TCM
Opens 4/2/2017
Rated NR
Fathom Events, Turner Classic Movies and Warner Bros. Entertainment are bringing North by Northwest to select cinemas nationwide for a special two-day event, which also includes an introduction from a TCM host. Cary Grant stars as an innocent man mistaken for a spy in one of director Alfred Hitchcock's greatest thrillers. While leaving New York's Plaza Hotel, advertising executive Roger Thornhill (Grant) has the misfortune of standing just as the name "George Kaplan" is paged, starting a lethal case of mistaken identity and a nonstop game of cat and mouse as he is pursued across North America by espionage agents trying to kill him--and by police who suspect him of murder.
CAN'T FIND THE SHOW TIME YOU ARE LOOKING FOR?
We post new schedules on Tuesday evenings for Friday through the following Thursday. In some cases, advance tickets for future releases will be posted by date.
Closed Captioning and Descriptive Video devices available by request at theater box office.
Find Showtimes & Buy Tickets
*Click on time to purchase tickets