Check for advance tickets only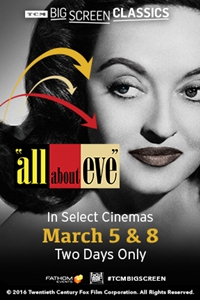 All About Eve (1950) presented by TCM
Opens 3/5/2017
Rated NR
Fathom Events, Turner Classic Movies and Twentieth Century Fox are bringing All About Eve to select cinemas nationwide for a special two-day event, which also includes an introduction from a TCM host. From the moment she glimpses her idol on Broadway, Eve Harrington (Anne Baxter) strives to upstage Margo Channing (Bette Davis). After cunningly stealing Margo's role, Eve disrupts the lives of anyone close to the actress in this timeless cinematic masterpiece. All About Eve earned a record 14 Oscar® Nominations*, winning six - including Best Picture!
CAN'T FIND THE SHOW TIME YOU ARE LOOKING FOR?
We post new schedules on Tuesday evenings for Friday through the following Thursday. In some cases, advance tickets for future releases will be posted by date.
Closed Captioning and Descriptive Video devices available by request at theater box office.
Find Showtimes & Buy Tickets
*Click on time to purchase tickets