Welcome
Check for advance tickets only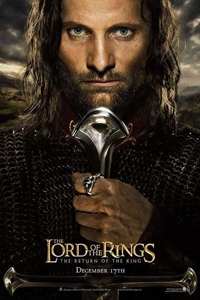 Special Extended Edition The Lord of the Rings: The Return of the King
Opens 12/5/2003
Rated PG-13 for epic battle sequences and some scary images
As the shadow of Mordor grows across the land, the warrior Aragorn is revealed to be the lost King of Gondor, the hidden heir to the ancient kings. Sauron's forces have laid siege to Minas Tirith, the capital of Gondor, in their efforts to eliminate the race of men. The once-great kingdom has never been in more desperate need of its king. But can Aragorn answer the call of his heritage and become what he was born to be?
CAN'T FIND THE SHOW TIME YOU ARE LOOKING FOR?
We post new schedules on Tuesday evenings for Friday through the following Thursday.
In some cases, advance tickets for future releases will be posted by date.
Closed Captioning and Descriptive Video devices available by request at theater box office.
Find Showtimes & Buy Tickets
*Click on time to purchase tickets